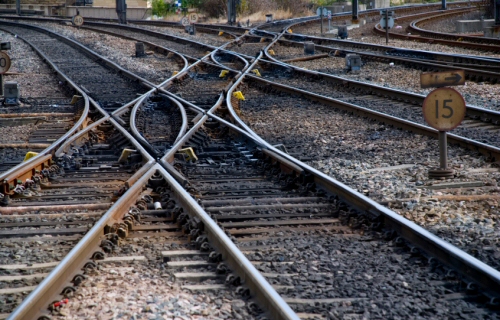 The Permanent Way
The Vaults, 13th October 2019
I have to hand it Debbie Hicks and Alexander Lass, producer and director of The Permanent Way. Whilst David Hare's 2003 verbatim dissection of the Tory rail privatisation in the 1990s, and the four fatal disasters which followed, is an undeniably powerful piece of theatre, which was praised at the time, it takes guts to revive it. Especially in a two month run. With a cast of nine. Admittedly the economics at the Vaults are attractive for theatre makers and performers, that is why the Festival goes from strength to strength, and the USP of a site specific production about the railways, under Waterloo with trains rumbling every few minutes, is self evident. And a few coats, uniforms, lamps and four benches is all that was needed set and costume wise (Ruth Hall). Even so I was surprised when this was announced, though very pleased as it had been on my watch list for years.
I was even more surprised that the Vaults was packed with twenty somethings on the Sunday afternoon when I attended. I guess this is ancient history from their perspective but then again, as our politics and civic discourse becomes more polarised, and with rail nationalisation firmly on Labour's policy agenda, I guess the relevance of the play needs no explanation.
Now when I was their age, fresh out of uni, and keen to do something worthwhile, I sought work in the public sector. Civil service exams completed it was off for interviews at various departments (at least I think that was the chronology). Ever the statto, Department of Transport was top of the list. Some kind mandarin chaps quizzed me on the thorny issue of rail privatisation, already firmly on Thatcher's agenda. To paraphrase I said it was a shite idea. How to split infrastructure from operations and how to make competition work across a fixed capital public good? The chaps didn't really demur. Didn't get an offer mind but it was pretty clear that if this jejune, if opinionated, grad could see this was bonkers idea, then so could everyone tasked to make it happen. From one entity to 113.
And so it came to pass. David Hare offers us a High Powered Treasury Thinker (Lucas Howe), a Senior Civil Servant (Jonathan Coote) and an Investment Banker (Anna Acton) to walk us through the how and why of privatisation, all retrospectively seeking exculpation. Wendy (Sakuntanla Ramanee), in a neat touch, just makes the tea. A turn of the political wheel and we meet John Prescott (Paul Dodds) and a Senior Rail Executive (Tej Obano) who ooze complacency. A Very Experienced Rail Engineer (Jonathan Tafler) warns of the dangers presented by the split of responsibilities and the lax safety regime, driven by commercial imperatives, before the four "accidents" are forensically examined. Southall (19th September 1997, 7 dead, 150 injured), Ladbroke Grove (5th October 1999, 31 dead, 523 injured), Hatfield (17th October 2000, 4 dead, 70+ injured) and Potters Bar (10th May 2002, 7 dead, 76 injured). For those that doubt the connections, after all the actions taken in the years after these tragedies, there have been minimal fatalities on Britain's railways, outside of incidents on level crossings.
The cast, including Jacqui Dubois and Gabrielle Lloyd as well as the above, take on the roles of the bereaved, union leaders, campaigners and pivotally, a British Transport Policeman (Jonathan Coote), the MD of the eventually nationalised Railtrack (Lucas Hare), yes it turned out you couldn't leave the infrastructure in private sector hands, and a Bereaved Widow, the author Nina Bawden, whose husband died at Potters Bar (Gabrielle Lloyd). The diversion into the schisms between the various groups of the bereaved feels prescient.
The play was inspired by Guardian journalist Ian Jack's book, the Crash That Stopped Britain, and was based on interviews carried out by the cast of those involved selected by Max Stafford-Clark and transport journalist Christian Wolmar, (who I see is not standing this time as the Labour candidate in Richmond Park where, one expects, the hypocrite and quarter billionaire Zac Goldsmith, will lose out to the Lib Dems). This process is classic Joint Stock Theatre, which was founded by Hare and Stafford-Clark and out of which the original creator of The Permanent Way, Out of Joint …. well, emerged.
What is extraordinary is that David Hare added very little in terms of connecting tissue to the interviews. All he did was extract and order. Given the subject matter it is unsurprising just how vital and moving so much of the testimony is. What is surprising however is just how well it works as drama. There is a bit of policy wonking at the start but nothing intimidating and by the time we got to the aftermath of the crashes I was properly immersed. Of course it helps that this interests, and angers, me, but I think the rest of the audience were similarly engrossed.
For that we must thank director Alexander Lees, the movement, in a very tight transverse space, of Sian Williams, the lighting of Rick Fisher and the sound of Roly Witherow. And a very committed cast. The setting helped but this would have been just as effective in a standard theatre. A string of 3* reviews seemed a little stingy in my view. Political theatre at its best. And every single word is true.
Of course you could always just nip "upstairs" to see the complex in action, or, more often than not, inaction. And this at the London terminal for South Western Railways, better looked after than most because all us posh types use it. An under-invested infrastructure, owned and operated by the state at arms length through Network Rail, (most of the track, stations and signalling), regulated by the Office of Rail Regulation, with passenger train operators under short term franchises awarded by the Department of Transport, or through open access, and freight operators through open competition, paying to use that infrastructure. Rolling stock in the hands of leasing companies, sub-contractors a plenty for maintenance. Most franchises receive subsidies, with contracts and legalese rampant, conditions on service, punctualities and control of fares never ending. And of course there is the irony that one way or another most of the operating companies involve a European state owned rail company (Keolis, Deutsche Bahn, Nederlandse Spoorwegen, MTR Hong Kong and soon Trenitalia). Ooh and then there's LNER, accidentally nationalised. I am pretty sure this was never the intention of the Thatcherite nutters. We pay more (fares and subsidies) and get less. Go figure.